Permanent Lips A.K.A Lip Blush
Lip blush is the hottest new beauty trend on the market to day! Ladies are loving having their lipstick stay on all day from rise to shine!
Imagine eating a full meal and not having your lipstick come off or taking your mask off through out the day and not having it smeared all over your face! Permanent lip stick can do all of this for you and more.
Having your lips tinted or blushed can make them appear fuller, more symectical and give them a more desired colour. When you leave the studio your lips will be bright and have a lipstick effect. As they heal they will soften and become very natural looking.
At the initial appointment we pre-draw the lip look and create a custom colour you will love as a daily wear for your lips!
Please review the before you visit page to see if you have any contradictions to getting this service.
Lip Blush Appointment Process
When you come into the studio we will review your medical history and discuss any potential side effects and what kind of lips you are looking for. If you have photos for reference you can show them to me here.
You then use a peroxide based disinfecting mouth wash to clean you mouth from bacteria, this is the same process used at most dental offices.
I then take photos of your lips and face standing up and laying down to get before and afters and help plan your new lips. I measure and draw out your lips, this process varies in time depending on the symmetry of your existing lips!
You can now show me the colour you are hoping for, it is best to bring in a lip colour with you so we can choose something similar to your daily wear fave. Some of the colours I have you can try on in advance, unless its a custom colour.
I then apply the colour to your lips and apply numbing as we go, most people are fine but if you are worried feel free to take a Tylenol when you arrive.
When all the colour is implanted I show you your new lips and take completed photos. At this stage your lips will be very bright and possibly swollen, they will fade 30-60% after the first session and sadly the swelling won't last.
You leave the Studio with everything you need to take care of your new lips including written after care instructions and product. You will have a perfection appointment in approximately 8 weeks to get the desired colour saturation levels.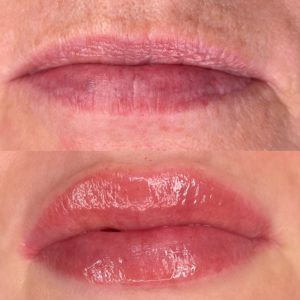 Lip Blush Deets!
Appointment time 3-3.5 hours

Downtime – Your lips may be swollen bruised or red for the first 3 days after your appointment, most people LOVE the first few days! Day 4-5 you lips will be peeling and flaking, some people opt for a mask at this stage. 

Numbing – We definitely have options to make you feel comfortable

Pain level – 0-3 this varies with each person

Healing time – 4-6 days

Touch up – 8 week touch up is necessary to get the right colour saturation. If you have darker lips you may need colour correction appointment as well, please send pictures in advance to studiokivernon@gmail.com

Maintenance – 24-48 month colour boosts is typical

Booking available online here – Please review the before you visit page to review pre care instruction before you book.