Brow Lamination Vernon BC
Have you heard of Brow Lamination?
It is quickly becoming one of the most popular services for your eyebrows and is one of our new favourite services at Studio Ki. That's right, lamination is available right here in downtown Vernon.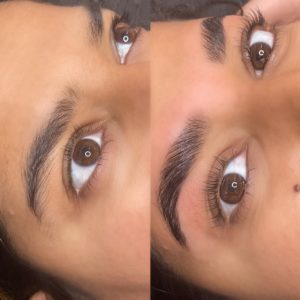 Above is a before and after of a lamination done at Studio Ki. Notice how groomed and perfected her brows look with this treatment.
Who is the ideal candidate to have their brows laminated?
Perfect for our clients with lots of brow hair!
If you ever describe your brow hair as:
Untameable
Unruly
Hard to manage
Growing horizontally with no vertical fronts
Not fluffy
If these brow problems sound like they belong to you then brow Lamination is for you! It keeps your brow hair nice and neat for up to 8 weeks and pairs perfectly with a tint.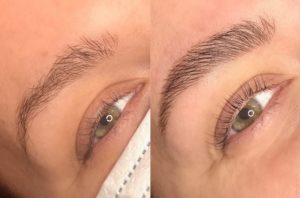 All about Brow Lamination
What is a Brow Lamination?
We brush your brow hairs up and style them perfectly in place. We then use our special serums to keep them that way for up to 6 weeks.  This service keeps your brow hairs in order and looking full 24/7!
Brow lamination lasts 5-7 weeks on average and will make your brow routine a snap!
The appointment time varies between 45 minutes and includes a wax &  shaping. We also recommend a tint so your brows pop and look more dramatic. We have all the tinting colours from blonde to black!
What makes a good candidate for Brow Lamination?
A good lamination candidate has medium to thick brow hair, that is unruly or grows in horizontally, and you want it to look more fluffy and/or neat.
If these brows sound like your brows and you want your brow routine to be a snap then click below to book your appointment today!